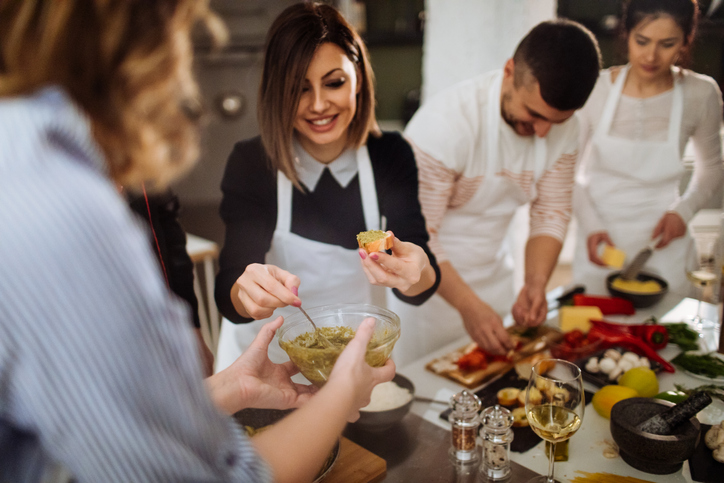 For many people, cooking doesn't come naturally. Moreover, if you want to create more elaborate meals, you need to learn a few new things in the kitchen. The good news is that you're not on your own when it comes to improving your cooking abilities. At The Cook's Station in Greenville, SC, you can take classes to learn helpful techniques. These can lead to better-tasting dishes and more confidence as a cook.
Class Details
Cooking classes at The Cook's Station are held multiple times a week on various days. Furthermore, the classes are at 515 Buncombe St. in Greenville. The cost of the classes will vary. For example, some classes are as low as $55, while others cost in the $100 to $120 range.
A Wide Variety
One of the many appealing aspects of the classes at The Cook's Station is that they cater to many preferences and styles. The classes address a wide variety of dishes and types of food. For instance, you can learn how to cook Asian foods, Italian dishes, Mexican foods, desserts, main dishes, and appetizers. There are even classes on how to make different wines.
Pasta Making
Pasta is undoubtedly a family favorite in many households. Plus, there are so many different types to make. If you regularly eat pasta and want to learn to make new recipes or improve your cooking, take the class at The Cook's Station. On Tuesday, Sept. 27, you can come to The Cook's Station at 6 p.m. and learn how to make pasta dough from scratch. Firstly, a professional chef will teach you how to knead, shape, and cut dough. From there, you'll get to create a pasta dish topped with oil and vinegar that goes with a mixed green salad. You'll work with a partner at every step of the process.
You might also like: 3 Tips On How To Clean Your Tires
Cupcake Making
Who doesn't love a sweet treat from time to time? You can't go wrong with cupcakes at any time of the day. Furthermore, cupcakes are even better when you can make them yourself. On Saturday, Sept. 24, from 10 a.m. to noon, you can learn how to improve your cupcake-making abilities. The class costs $55 and will walk you through the process of making cupcakes and icing from scratch. You'll also get a chance to learn the basics of working with piping icing. Plus, you can enjoy some fun decorating techniques. This is a hands-on course. You'll work in groups, learning every step of the process and putting them into practice.
Now is a good time to become the cook or baker you have always wanted to be. So sign up for one of the upcoming classes at The Cook's Station today.
Disclaimer: The stock image is being used for illustrative purposes only, and it is not a direct representation of the business, recipe, or activity listed. Any person depicted in the stock image is a model.