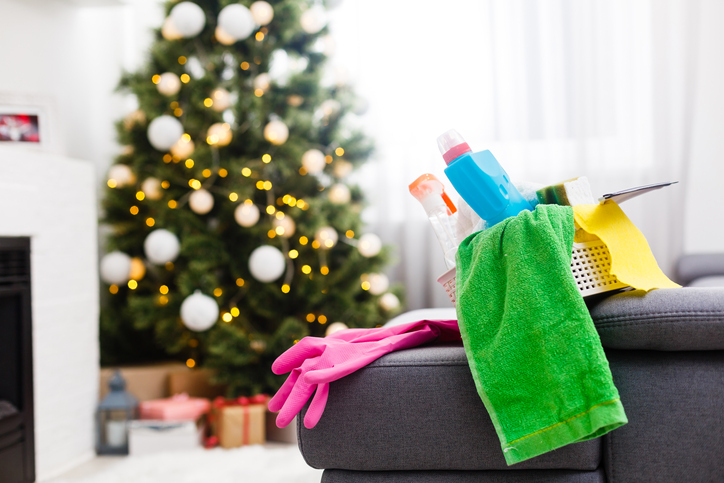 If you're planning something special at your house this holiday season, you want everything as perfect as possible. Whether you've invited family members or friends over, you might feel a little panicked. With this last-minute cleaning checklist, you can relax. After all, it'll help you get your home ready for when guests arrive.
Stop Feeling Rushed
It doesn't matter how far in advance you plan; there's always that final push to make sure you didn't miss anything. In about 15 to 20 minutes, you can go through your home one last time. For one thing, you'll feel calm and relaxed when everyone arrives. For another, they'll think you spent hours cleaning.
Great Ideas
Okay, so what's the trick? Here are just a few ways that you can spruce up your house before people walk in the door.
Curbside Appeal
You want your guests to feel welcomed as soon as they pull up to your house. So, sweep the front porch and entryway. Also, hang a holiday-themed wreath on the front door.
Make the Living Room Inviting
For this, start by fluffing all the pillows on your couch, loveseat, and chairs. Next, fold throw blankets and place them in a basket for your guest to use. However, keep one out that you casually drape across the back of the sofa.
In addition, remove any magazines or books from the coffee table. After wiping off the surface with a microfiber cloth, replace the magazines and books with a small centerpiece or holiday decoration. In other words, keep the coffee table simple and uncluttered.
Don't Overlook the Bathroom
In just five minutes, you can make sure there's a new roll of toilet paper on the holder. Along with that, place several extra rolls in a basket. Hang decorative hand towels for your guests to use. You can also roll them up and put them in a second basket.
In addition, put toothbrushes and toothpaste in the medicine cabinet or under the bathroom sink. The same goes for any medicine laying out.
Tidy the Kitchen
Get miscellaneous things on the counters out of sight. Then, quickly use a fragrant cleaner to wipe off the surfaces. Also, wipe up any water inside the sink. If you have any dirty dishes, put them in the dishwasher. If you'll need some of the dishes for your guests, go ahead and run the dishwasher.
You might also like: Apple Cider The Whole Family Will Love
Additional Tips
Here are some more ways to get your home ready in about 15 minutes before anyone shows up:
Put the kids' toys away.
Run the vacuum cleaner on carpeted areas.
Wipe down the toilet.
Add lotion and hand sanitizer to the basket of hand towels in the bathroom.
Have a designated place to put everyone's coats.
Set a boot tray near the front door. That way, people will have a place to put their shoes. Also, that prevents them from tracking dirt or snow into your house.
To quickly get your home ready for holiday guests, focus most of your attention on high-traffic areas.
Disclaimer: The stock image is being used for illustrative purposes only, and it is not a direct representation of the business, recipe, or activity listed. Any person depicted in the stock image is a model.