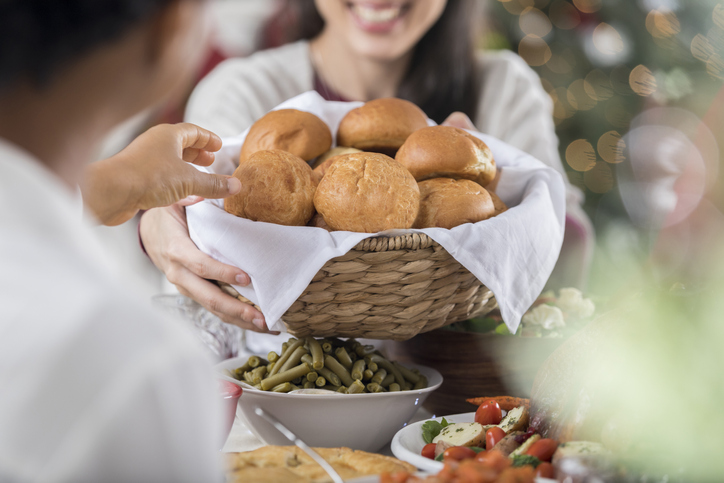 If you're like most people, you love Thanksgiving traditions. One of the favorites is a bread basket, which has a long history. Regardless of whether you've added this type of basket to your table for years or this is your first time, consider any of these delicious recipes. While the bread basket looks amazing on the dinner table, the smell of fresh baked goods fills the home.
Parker House Round Rolls
Parker House rolls are popular for Thanksgiving, as well as other fall holidays. These classic rolls have an incredible buttery flavor and light texture. The great thing about this particular bread is that you can serve it with butter and jams or spice it up with ingredients like Gruyere cheese and fresh dill.
Clover Beer Rolls
These, too, are a favorite for Thanksgiving dinner. As the name implies, beer is one of the ingredients used to make these rolls. That's what gives them their beautiful golden color. However, to balance out the flavors of the roasted garlic and Parmesan cheese, these rolls have a hint of sweet citrus. By placing three pieces of dough into muffin cups, they come out of the oven in the shape of a clover. Be sure to make plenty because clover beer rolls go quickly.
Parmesan Gouda Fantails
To add something special to your bread basket, make a batch of homemade Parmesan Gouda fantails. As yeast rolls, they have a uniquely wonderful flavor that people love. Typically, they're made with Gouda cheese, which makes them taste somewhat nutty. However, you can use other cheese instead, including Monterey Jack, Muenster, and Edam. Once baked, you'll detect both a nutty and malty flavor. These rolls are light on the inside and crispy on the outside.
Rosemary Parmesan Soda Bread
Soda bread is a great choice for a Thanksgiving bread basket. Made with ingredients like fresh rosemary and grated Parmesan cheese, you can't go wrong with these rolls. Even though they have a somewhat complex flavor, they're easy to make.
Sweet Potato Bread
Two things make this bread an outstanding choice. First, they're slightly sweet. Second, they're baked in a Dutch oven. This soft bread will enhance your basket. It's great for people of all ages.
Onion Twist Bread
For something on the savory side, consider making onion twist bread. The combination of sweet onions, cheese, and roasted garlic gives it an undeniable flavor. When making this bread, you'll cut the dough into strips, followed by twisting three of them together. After baking, sprinkle a little cheese on top.
Crescent Rolls
You'll never go wrong by putting crescent rolls into your basket. Like many other bread recipes, you can make plain rolls that are fluffy and buttery or dress them up. These rolls are incredibly versatile. For that reason, you can create several unique flavors. Along with the more traditional fluffy and butter crescent rolls, you can add sea salt or cheese to others.
You might also like: The 2023 GMC Yukon Has It All
Make this Thanksgiving Memorable
Having a big bread basket on your Thanksgiving table is a great way to impress family and friends. To make this year's holiday a standout, why not make homemade jams and jellies to go along with the bread?
Disclaimer: The stock image is being used for illustrative purposes only, and it is not a direct representation of the business, recipe, or activity listed. Any person depicted in the stock image is a model.