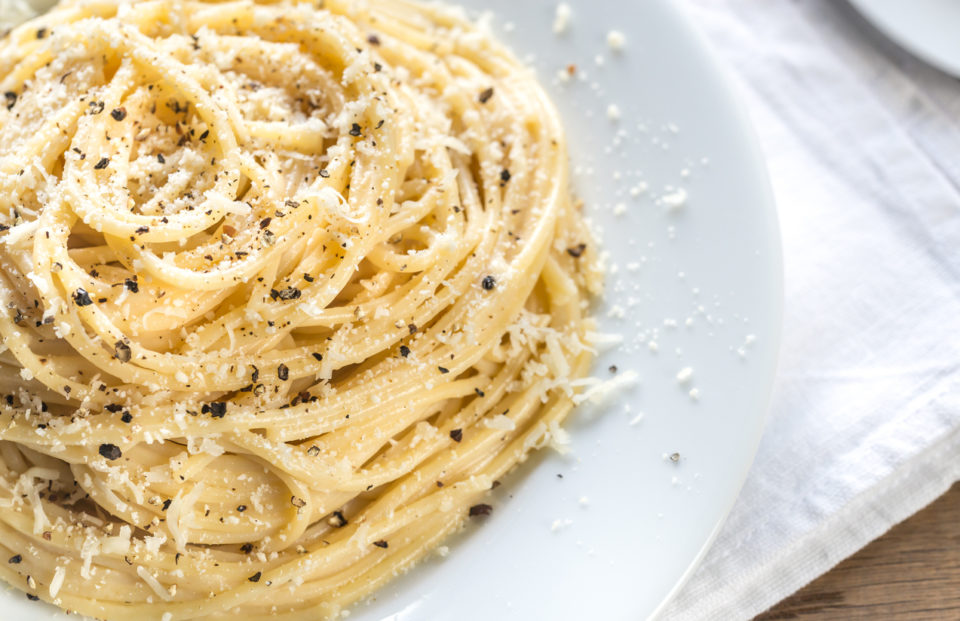 What's fun about cooking is you can experiment with so many different ingredients. Although, just because you may be running low on groceries doesn't mean you can't whip up something delicious. Here are a few easy pantry recipes that we think you will enjoy the next time you need to make something delicious with minimal ingredients.
Spaghetti Cacio e Pepe
You can get so creative when making pasta at home. As long as you have noodles, Parmigiano-Reggiano, olive oil, and pepper, you will be able to make a delicious spaghetti dinner that everyone will enjoy.
Chocolate-Pretzel Cereal Treats
Craving something sweet but don't know what to make? Take your chocolate cereal or rice cakes, add some pretzels, and marshmallows and enjoy a sweet crunchy, chocolatey treat.
Buttermilk Cheddar Corn Cakes
If you need a side dish or a snack to feed your family, buttermilk cheddar corn cakes will do the trick. You will need to grab your flour, cornmeal, sugar, baking powder, salt, butter, eggs, buttermilk, cheese, corn, and chives to make this delicious dish.
Chocolate-Hazelnut Paninis
Sometimes you just need to eat something sweet and warm. If you have challah bread, chocolate hazelnut spread, hazelnuts, and butter you will be able to make the most delicious chocolate hazelnut Paninis.
Creamy Tomato Soup
Do you like easy comfort food recipes? We sure do! If you are looking for a way to use all your vegetables before they go bad, this creamy tomato soup is worth trying.
Applesauce Waffles
Are you craving waffles, but you're out of eggs and milk? No problem. Flour, baking powder, baking soda, salt, evaporated milk, applesauce, brown sugar, vegetable oil, and vanilla extract will get the job done.
Tuna Salad
If you're digging through your pantry looking for something to make, grab those cans of tuna and make some tuna salad. All you need is some celery, onion, parsley, mayonnaise, mustard, and any other seasonings you would like to enjoy a tuna wrap or sandwich.
You might also like: The Best Homemade Gnocchi – No Kidding!
Garlic Ramen Popcorn
Are you running real low on ingredients and need a snack ASAP? Add your ramen seasoning to your popcorn and prepared to be amazed at the delicious crunchy taste.
Disclaimer: The stock image is being used for illustrative purposes only, and it is not a direct representation of the business, recipe, or activity listed. Any person depicted in the stock image is a model.