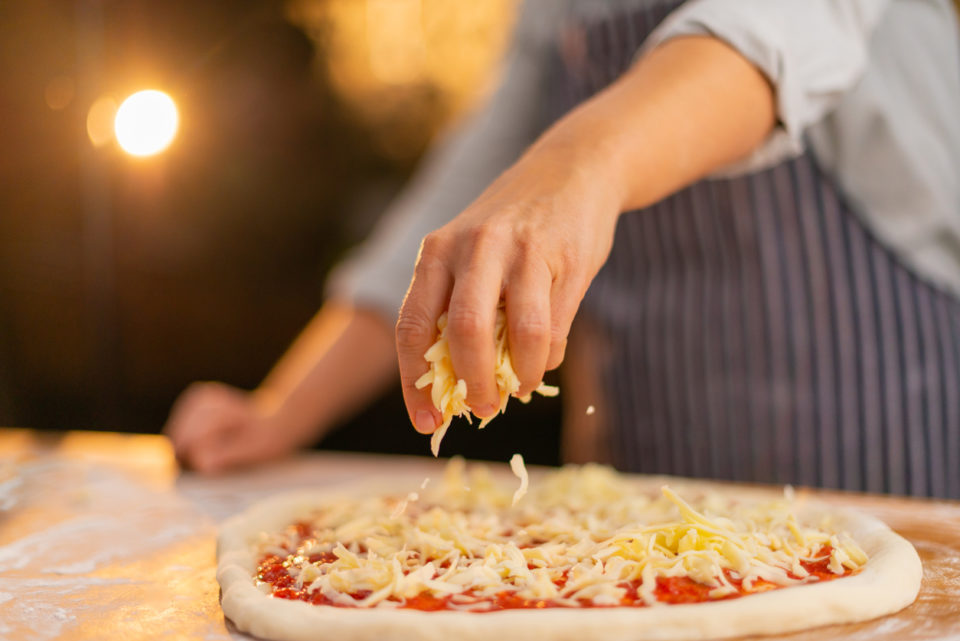 You'll be hard-pressed to find many people who don't love going for a piece of pizza. Whether it's for an at-home delivery on a relaxing weekend evening, a homemade pizza night with the fam, or any other occasion, you can never go wrong with pizza. You have limitless toppings to choose from, but sometimes, the right kinds of cheese are all you need. You may be used to eating a sparse cheese pizza with nothing but the basics. The truth is, there are more options at your disposal than you may think. Try these cheeses the next time you're craving a slice.
Mozzarella
This is likely the first cheese you'll think of when it comes to dressing up a pizza. Most restaurants and pizza makers use mozzarella, not just on cheese pizzas but many other selections. One of the biggest appeals to going with mozzarella is that it has strong flavors and doesn't have trouble melting. It also lasts a long time; you can even keep an unopened container of shredded mozzarella in your cupboard for months. Mozzarella also tastes great when combined with other types of cheese.
Provolone
Provolone cheese is a favorite for sandwiches, but it goes nicely on pizza as well. It has a mild, sometimes sharp taste that plays nicely with mozzarella. You can try putting it on the pizza before it goes into the oven or even sprinkling some on top after it comes out. Many people enjoy using provolone on various kinds of veggie pizzas.
Cheddar
This is possibly the most universally used cheese. It goes well on just about anything you can think of, including pizza. Cheddar cheese comes in mild, medium, sharp, and extra sharp flavors, so it's easy to find the right style for your tastebuds. It's versatile, so you can count on it working effectively with meats, such as pepperoni, sausage, and ham. It's also a good companion for more ambitious pizzas, such as macaroni.
Gorgonzola
When you want creamy cheese to adorn your pizza, this is the right choice. Gorgonzola is crumbly, but it melts well and spreads over the pizza evenly, covering most, if not all, of the surface. Try it with vegetables, especially onions, and you'll discover tantalizing flavors that you'll want to return to time and again.
You might also like: Sweeten Your Next Meal With Honey Muffins
Romano
Looking to spice up your pizza — literally? Romano cheese will make it happen. This aged sharp cheese can make a great pizza on its own or combined with others, such as Parmigiano-Reggiano.
If you've never experimented with different types of cheese on your pizza, take these ideas and see what you can create. Kids and adults alike love pizza, and you will be sure to fall for some of these options and combinations.
Disclaimer: The stock image is being used for illustrative purposes only, and it is not a direct representation of the business, recipe, or activity listed. Any person depicted in the stock image is a model.