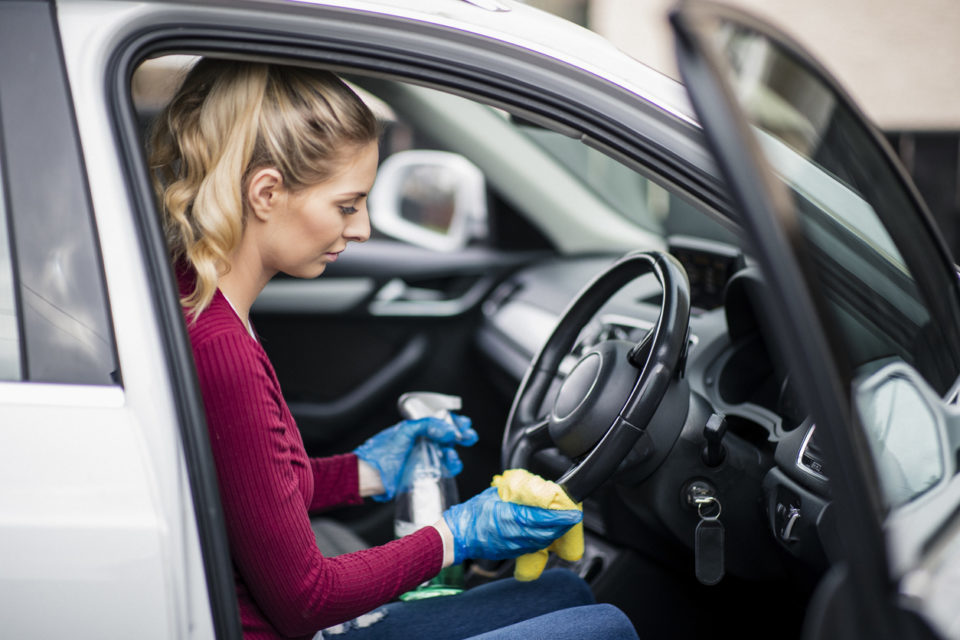 After a summer of fun in the sun, the inside of your car has likely seen better days. Driving off on adventures both near and far can lead to dirt and sand buildup. And family members might leave items behind to fill up the floor or back seat, eat meals, and leave messes. As fall approaches and activities wind down, it's nice to tidy things up. Therefore, clean out your car this fall with these 10 interior cleaning tips.
Clear Out Trash and Forgotten Items
Try taking two bags to your car. Fill one with forgotten toys, sunscreen, hats, or other keeper items. Then, use the other bag to pick up trash that is too big for the vacuum cleaner. Make sure you move the front seats so that you can reach beneath them for items that have rolled under.
Clean the Floor Mats
Next, lift out your floor mats and shake them out thoroughly. Use a bucket of soapy water and brush to scrub stubborn stains off, then rinse. They can hang to dry in the sun while you continue cleaning the car.
Vacuum Everything
Now, it's time to vacuum the inside of the car. Use a pointed nozzle to get into smaller crevices as you vacuum the floors, seats, and trunk. If your vacuum nozzle is small enough, you might be able to remove crumbs and small material from cupholders and cubby holes. And if the dashboard is very dusty, run the vacuum over to pick up some of the dust to make wiping it down later easier.
Wipe it All Clean
Be careful about using harsh cleaners. It's a good idea to test your spray cleaner or use one specifically made for car upholstery. Use a soft cloth or microfiber to wipe down all the surfaces, including the steering wheel.
Squeaky Clean Cup Holders
Spills happen, so cupholders often get dirty. If your cupholders are removable, it is easier to get into the small spaces. After wiping with a soft cloth, you can use a cotton swab and some cleaning spray to get into tiny spaces.
Window Washing
It's just as important to clean the inside of your car windows as the outside. Use a window cleaner solution instead of a regular cleaner to prevent streaking. To make your own window cleaner, mix one cup of rubbing alcohol, two tablespoons of vinegar, and one cup of water.
Attack the Stains
For leather or leather-like seats, you can wipe the seats clean with a suitable cleaner. But you might have stains if you have fabric seats. There are many stain cleaners for car upholstery that you can try. Otherwise, you can make your own by mixing a tablespoon of dish soap, two cups of water, and one cup of vinegar.
Stubborn Pet Hair
Even powerful vacuums can't get up all the pet hair. If you've attacked it and there's still pet hair, use a rubber-coated glove to rub the pet hair off.
You might also like: Experience A South Carolina Staple At Groucho's Deli
Freshen Things Up
After all your hard work, it's time to get your car smelling fresh again. So, mix five drops of essential oil with one cup of baking soda and put it into a jar. The next day, sprinkle the baking soda on the floor of the car or the seats if they're cloth. After 20 minutes, vacuum it up and enjoy a more pleasant-smelling car.
Drive into fall with a renewed car that looks and feels better. Use these steps to have a refreshed car that'll feel, look, and smell good to drive. But for tune-ups and maintenance, you'll want to take your vehicle to the experts. At Bradshaw Chevrolet Buick GMC of Greer, South Carolina, you can rest assured that your car is in good hands. Make an appointment today with our service technicians to take care of all your maintenance needs.
Disclaimer: The stock image is being used for illustrative purposes only, and it is not a direct representation of the business, recipe, or activity listed. Any person depicted in the stock image is a model.